The Cowrie
When a big-game hunter becomes the hunted, little things — like a seashell in a child's ear — can make a big difference. A short story published as a stand-alone ebook. Previously appeared in Stupefying Stories.
Doctor Dead: A Percy and Quincey Adventure
San Francisco, 1904: Thirteen-year-old Percival Drew expected to spend the summer doing little more than tinkering with those new-fangled gasoline-powered motorcars. But that was before an insane scientist took an unhealthy interest in his cousin Quincey's very rare blood type… Before people began vanishing from the streets, to reappear as the mad doctor's undead minions… Before the villain's infernal devices gave him the ability to strike at will, destroying all who opposed him! With chaos descending on San Francisco, only two boys know the secret to defeating the undead doctor. But can they act in time?
(Out of print, but I still have copies to sell.)
A Drabble of the Heart
A very very short story of mine appears in this collection of strange little romances, available for Kindle.
Spooky Halloween Drabbles 2014
Two very short tales of terror — well all right, anxiety — along with about a hundred others by many other authors in this Kindle edition.
"Misprint"

Horace's magic trick goes so, so wrong when he follows instructions without first reading to the end. Will Muffin, aka Princess Mystery Moon Starfire, ever be the same again? Don't try this at home. Your cat will thank you. Well, no it won't; cats don't, do they? But if they did, this would be the sort of thing they would thank you for. Here's the Kindle version. Or, follow this link to listen free to the audio version, recorded by the author.
"Star of Vengeance" (free)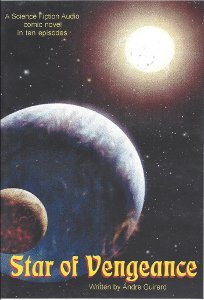 Not a read, but a listen. Free, ten short radio episodes scripted by Tyler (under a different name). Search the page for "vengeance".